Ted Del Duca
President
---
Ted Del Duca serves as the Board President at Goal Academy High School. Ted is the General Manger and Director of Sales for Breakthrough Interactive Inc., a national supplier of high-end commercial interior design and products. He opens the line of communication between organizations that have a common interest. With over 30 years in both public and private sectors, Ted has experience in sales, management, team building, professional development, strategic implementation, and company collaboration.
An entrepreneur at heart Ted is skillful and dynamic in engaging business opportunities. Ted is well known for helping his community. He enjoys representing his many business interests and regularly speaks at meetings of different community organizations. Ted has proudly served as a member on many boards including: Parkview Hospital, The McClelland School, CSU Athletics, Friends of Football, The Sister City Commission and The Chamber of Commerce.
Ted is a graduate of the University of Colorado and hold degrees is Business Management and Business Entrepreneurship.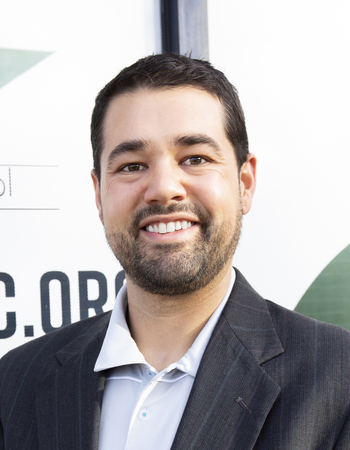 Nicolas Jimenez
Vice President
---
Nicolas Jimenez is Comcast's Director of Government Affairs for South Metro Denver and Southern Colorado. In this role, he is responsible for Comcast's regulatory, franchising, political, and public policy matters—while also serving as a community ambassador throughout Comcast's Southern Colorado footprint. Prior to moving to Colorado, Nick was based out of Philadelphia and served as national partnerships lead for Internet Essentials, Comcast's signature community impact initiative aimed at helping low-income households get online. Nick joined Comcast in 2007 as an intern at the company's Philadelphia HQ. Prior to joining Comcast, he successfully ran a small business while obtaining his BBA from Temple University.
Nick is a 2019 graduate of Leadership Pikes Peak's Signature Program and a current 2020 participant in the Latino Leadership Institute Fellowship Program at the University of Denver.
A passionate lifelong learner and community-oriented leader, Nick has a long history of volunteerism and board service. He currently serves as Secretary of the GOAL Academy High School Board of Directors, and as a Director on the Garden Ranch YMCA Advisory Board. He is a member of the Olympic City USA Task Force, serves on the Board of Governors and Government Affairs Council for the Colorado Springs Chamber & EDC, and serves on the Legislative Action Committee for the South Metro Denver Chamber of Commerce. Previously, Jimenez served as Board Chair of the Pan American Academy Charter School and Board Member of the Greater Philadelphia Hispanic Chamber of Commerce/Chair of their Young Professionals Network. He was the Founding Chair of UNIDOS, Comcast's Latino Employee Resource Group that now has chapters throughout the country. Originally from San Juan, Puerto Rico, he resides in the south Denver area with his wife Janett and their three children.
Luis Contreras
Treasurer
---
Luis Contreras is the Vice President and Senior Relationship Manager for TBK Bank, his employer for over a decade. Prior to that, Mr. Contreras spent six years with 1st State Bank. He hails from San Diego, California – a first generation college graduate and son of immigrant parents. The University of Southern Colorado (now C.S.U. – Pueblo) recruited Luis and he came to Pueblo on a baseball scholarship. Pueblo has been home ever since. His education and degree in Business Management has served him well in the banking industry and Luis, his wife, a teenage son and daughter enjoy family time, golf, and helping others. Luis also volunteers his time to United Way, S.R.D.A. Meals on Wheels, and is a local Boy Scout troop leader, where his son recently achieved the coveted Eagle Scout honor. He currently serves in the valuable role of treasurer for GOAL Academy High School and is a valuable asset in the fiscal and overall management of the school.
Carolyn Renaud
Secretary
---
Carolyn "C.J." Renaud is the Senior Community Relations Liaison for the Northwest Region of Western Governors University. She believes that education is about connecting passion, talent and knowledge. Bringing those components together to achieve educational goals impacts families, communities and the workforce. C.J. embodies the collaborative spirit and brings her past experiences in policing to higher education in Colorado. She sees an opportunity to bridge gaps for people of color, low-income and underserved areas to tap accessible, affordable education. Her experience as an Aurora police officer and as an administrator with the Greeley/Evans School District lends to relationship building and creating opportunities that will enrich communities. She's been championing collaborative efforts for 20+ years and has seen the value these connections create. They are powerful and impactful at home, work and the community. C.J. can speak to the power of transformational education, equity and opportunity in education, and the access of education in rural and non-college communities. Carolyn is an alum of the University of Northern Colorado, University of Phoenix, and Aims Community College. She is involved in various partnerships and boards, all of which strive for the betterment and improvement of students, staffs, and communities. C.J. has been married to Damon, a school teacher, for 28 years; they have one daughter who is also a University Northern Colorado alum, like her parents. Carolyn believes in the mission and vision of GOAL High School and considers it an honor and pleasure to serve on the board. When not serving students, C.J. enjoys golf, friends, coaching softball, entertaining, and time with family!
Joel Boyd
Board Director
---
Mr. Joel Boyd is a Colorado Native raised in the Denver/Aurora area. Currently, Joel is the General Manager of the Town Center at Aurora a million square feet shopping center with over 125 stores. He oversees operations, marketing events and new and current tenants. Before working at TCA Joel worked in the Mayor's Office in Denver as well as at the RE/MAX World headquarters and served on the Denver Planning Board and several school development/design committees. He currently serves on the GOAL Academy High School Board of Directors; in addition, he serves on the Aurora Chamber Board and the Aurora Rotary Board. Joel enjoys GOLF, his dog Harpo! (Looks like Oprah), the new Ford Bronco, hiking, most sports and all music. He has one son Jalan (24). "I am excited to be a part of GOAL Highschool's board and I am looking forward to the partnership and great things!"